It is a rare endometriosis patient who doesn't have a few things to say to her doctors past and present.  Most of us have had to fight long and hard (an average of 7+ years) just for an accurate diagnosis let alone effective treatment.  Naturally, we have encountered more than a few doctors along the way.
As a fellow health professional, advocate, and longtime endometriosis patient myself I have had my fair share of both positive and negative experiences with doctors and nurses and have heard many flat out heartbreaking if not appalling stories from others.  The same themes of patient dismissal, misinformation/out of date beliefs, and paternalistic attitudes repeat themselves over and over again.  It is a serious problem that needs to be addressed.
So why bother writing?  My intention is to help bridge the gap between patients and physicians to help heal the doctor patient relationship so we can work together productively and make a meaningful improvement in the lives we touch.
We Appreciate You
A doctor who listens, helps, and can admit their limits is worth their weight in diamonds.  We are incredibly grateful to all of the dedicated health professionals who believe us, help us, and refer us to specialists who have a greater level of expertise and skill when necessary.  Thank you for everything that you have done and continue to do.  Your compassion, skill, and dedication heal lives.
The Pain is Real and Intense
Let's get really real here for a minute. Endometriosis fucking hurts.  It isn't just a passing discomfort or a little twinge here and there.  It isn't something that popping a couple of OTC pain relievers resolves.  We're talking covered in cold sweat, shaking, puking, and fainting on the bathroom floor kind of pain intensity.  It is not uncommon to hear from endo patients who have gone through natural labour and childbirth say it was really nothing in comparison to their endo pain.
I have heard of many stories of women who have had a burst appendix, bowel obstruction, ovarian torsion and other such medical emergencies who didn't initially seek medical care as they assumed it was "just" an endometriosis flare and were afraid that they would be humiliated in the ER yet again.  This should speak volumes.
There is a reason why, according to an Endometriosis UK survey, an alarming 25% of endometriosis patients have considered suicide.  The pain is so intense and the disease can feel so hopeless when we aren't getting the effective treatment we deserve.  We can do so much better than this.
We're Not Drug Addicts and it's Not in Our Heads
It is very common experience among endo patients that doctors have treated them like either drug addicts or somatizers.  This is particularly common in the ER and among gynecologists who are frustrated that their treatment plan isn't working, but unwilling to admit they are over their heads and refer patients to an endometriosis specialist with greater expertise.
Don't blame the patient for your failed treatment plan.  We fully understand that endometriosis is complex, and certainly aren't expecting any kind of magical cure or chronic illness maintenance in the ER.  But please believe us when we say we are in pain and advocate for our own best interests including expert surgical care.  Pelvic pain and endometriosis are not mental illnesses, character flaws, or any other sort of psychogenic problem.
Effective Treatment Exists
It is pretty obvious that the status quo of endometriosis treatment (hormones, endless ablation surgeries, hysterectomy, or "just waiting for menopause") does not work.  So why do we keep desperately clinging onto irrational or outdated theories and treatments that are not effective and often cause other serious side effects?
Expert excision surgery has been shown time and time again that it is by far the most effective treatment for endometriosis, permanently improving both pain and fertility in the majority of patients.  Furthermore, an integrative approach utilizing nutrition, pelvic floor physical therapy, and other complementary treatments in addition to expert excision is even more effective.
I Expect You to Have a Comprehensive Plan and Be Willing to Collaborate with Me.
If you want my confidence in you as a physician, you need to be willing to work with me to create a comprehensive plan.  Repeating the same old myths, ignoring what I am saying, regurgitating the same tired plan that hasn't worked in ten years, pushing drugs you are affiliated with but have not disclosed to me, or anything that resembles paternalistic medicine simply is not going to result in a productive patient physician relationship.
I need a doctor who truly listens to and believes me, collaborate with me, and works with me to find a comprehensive plan (excision surgery, pain management, dietary therapy, pelvic floor physical therapy etc) that we can both feel good about.  This needs to be a team effort and I need you to respect where I am coming from and be on my side.
Furthermore, don't be intimidated by patients who are up to date on the latest research and advocate for their own best interests.  We might be a lot a little jaded by years of not being heard or taken seriously by other doctors.  We don't know you yet and fear that you will be like all of the other doctors who have treated us poorly and/or failed us.  This of course is not your fault, but listen non-defensively with interest and empathy and watch that "scary" patient quickly transform back into the sweet person that she is.
Listen, listen, listen.
Don't Assume You Fixed Me if I Don't Return
There is a common but pernicious misconception among health care professionals, believing that if a patient or client doesn't return we must have "fixed" them.  Many times this is not the case unless verified with the patient.  It is a huge red flag that something is wrong in the way a practitioner communicates/listens to patients, their treatment plan, their exam (if applicable), or all of the above.
Personally speaking, I have never ghosted a physician who hears me, treats me with respect, believes me, is trustworthy, and wants to collaborate.  But if they are defensive, dismissive, rough, arrogant, or condescending?  I'll probably let you know if I am unhappy (I am direct and feisty that way, INTJ that I am), but most will quietly walk out the door, share their poor experience in the vast social media patient community, and never come back.  Food for thought, which brings me to my next point…
It is OK to Admit You Don't Know!
I want to scream this one a thousand times over.  I don't think less of you as a doctor when you admit that you don't know or are in over your head and refer me to another specialist with more experience and training.  Not only is there no shame in that, but I think it is admirable.  Really.  We're all only human, after all.
But I take serious issue when you blame or dismiss me as a patient because your treatment plan didn't work.  Physician ego is never more important than patient care.  Please have the humility and respect for me as a patient and my health to admit when maybe someone else would be able to help more than you are presently able and to make that expert referral.
The resounding theme here is to please hear us.  We need you, but we need to collaborate as a team rather than a stonewall, paternalistic, or ego-driven approach that only leads to unhappiness and frustration for everyone.
Thank you for being here.  We're in this together.
What are the best and the worst physician experiences that you have had as a patient?  What do you want your past and present doctors to understand when it comes to treating endo patients?  Let me know in the comments below and on Facebook, Instagram, and Twitter.
—
Love what you are reading?  Stay in the loop and never miss a recipe; get the FREE Nutritionista ezine for free expert tips, success strategies, delicious healthy recipes and VIP offers and get Erin's exclusive guide of the Top Ten Foods to Banish From Your Kitchen ($24.99 value) absolutely free!  Get ready to nourish yourself sexy!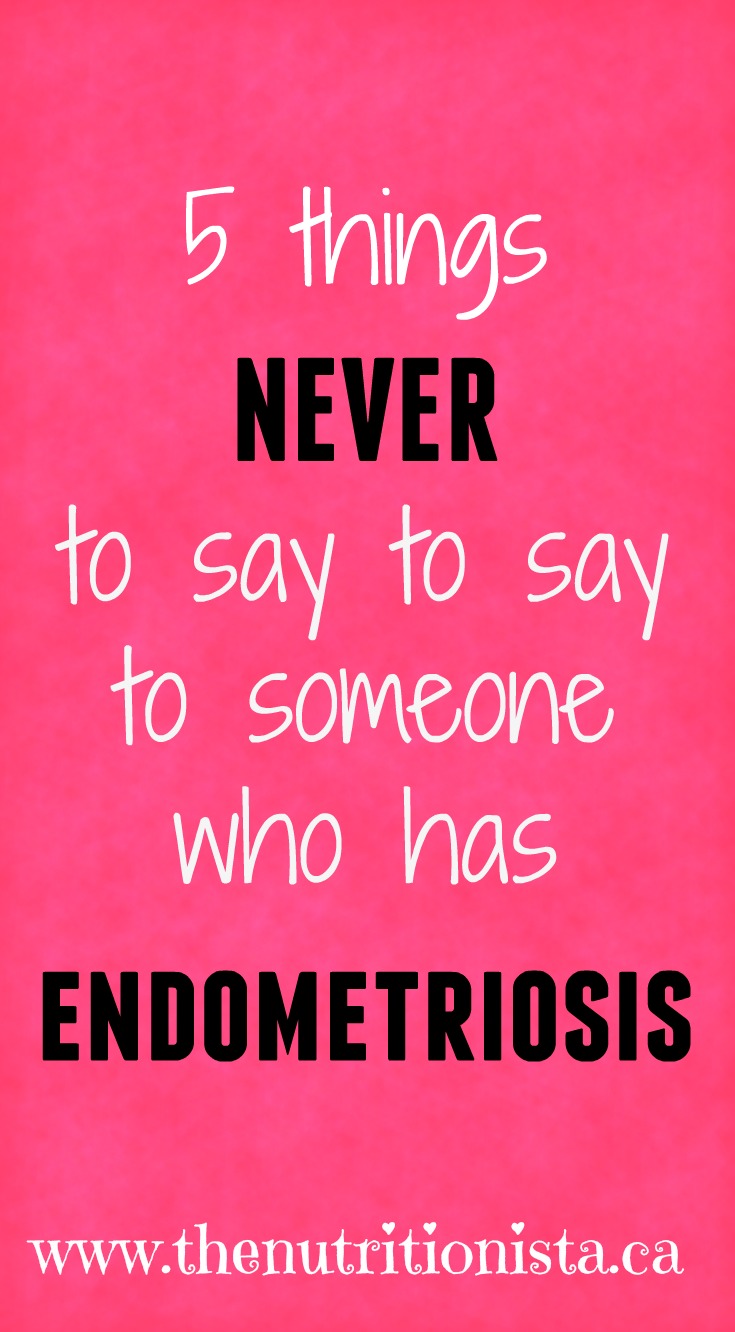 © 2016 Nutritionista.  Erin Luyendyk, RHN.  All rights reserved.
This article is intended as general educational material only and should not be considered medical or nutritional advice.  Please consult with your personal physician before implementing any nutrition, supplement or exercise program to ensure its safety and suitability for your specific individual situation.