© 2015 Nutritionista. Erin Luyendyk, RHN. All rights reserved.
March is Endometriosis Awareness Month!  Endometriosis is among the most misunderstood conditions that one can experience.  With so many misconceptions, it is easy to say things that dismiss suffering and strain or even end relationships.  As a holistic health professional working with women with endometriosis, an active member of the endo community, and as an endo patient myself I understand firsthand the dismissive effects of these comments.  Here are a few of the most common well-intended but hurtful comments we frequently encounter along with a few ideas on what would be helpful to say and do instead.
"I get bad cramps too sometimes.  It's not that bad; just take some ibuprofen."
Endometriosis is so much more than "just cramps" or "bad periods".  While minor menstrual pain (defined as mild pain that does not interfere with one's normal daily routine) is common, the pain caused by endometriosis is often much more severe.  Imagine feeling as if your abdomen has been cut open from hip to hip and battery acid has been poured into the wound while your insides are being twisted until they tear.  Pain that is so gripping that it causes vomiting, shaking, cold sweats, and even fainting.  Now we are getting into the ballpark of just how intense the pain can become.  To further put the degree of pain in perspective, it is not uncommon for women with endo who have endured unmedicated childbirth to share that for them, labour and delivery was actually less intense than their endometriosis pain.
Believe me, we have tried every over the counter medication, many prescription medications and every type of home self-care modality possible.  We're not being drama queens, faking it, drug seeking, or being "too sensitive."  It really hurts.  We appreciate when you try to understand.
"Why don't you just get a hysterectomy?"
While hysterectomy (removal of the uterus) can help reduce uterine pain (such as caused by endo's cousin adenomyosis), endometriosis is by definition found outside of the uterus. This means that even if the uterus is removed, the disease still remains in place to wreak havoc. The good news is that an expert integrative approach combining expert excision to remove the disease, dietary therapy, pelvic floor physical therapy and acupuncture is often very effective in permanently treating pain and even improving fertility. There is so much hope that this will get better!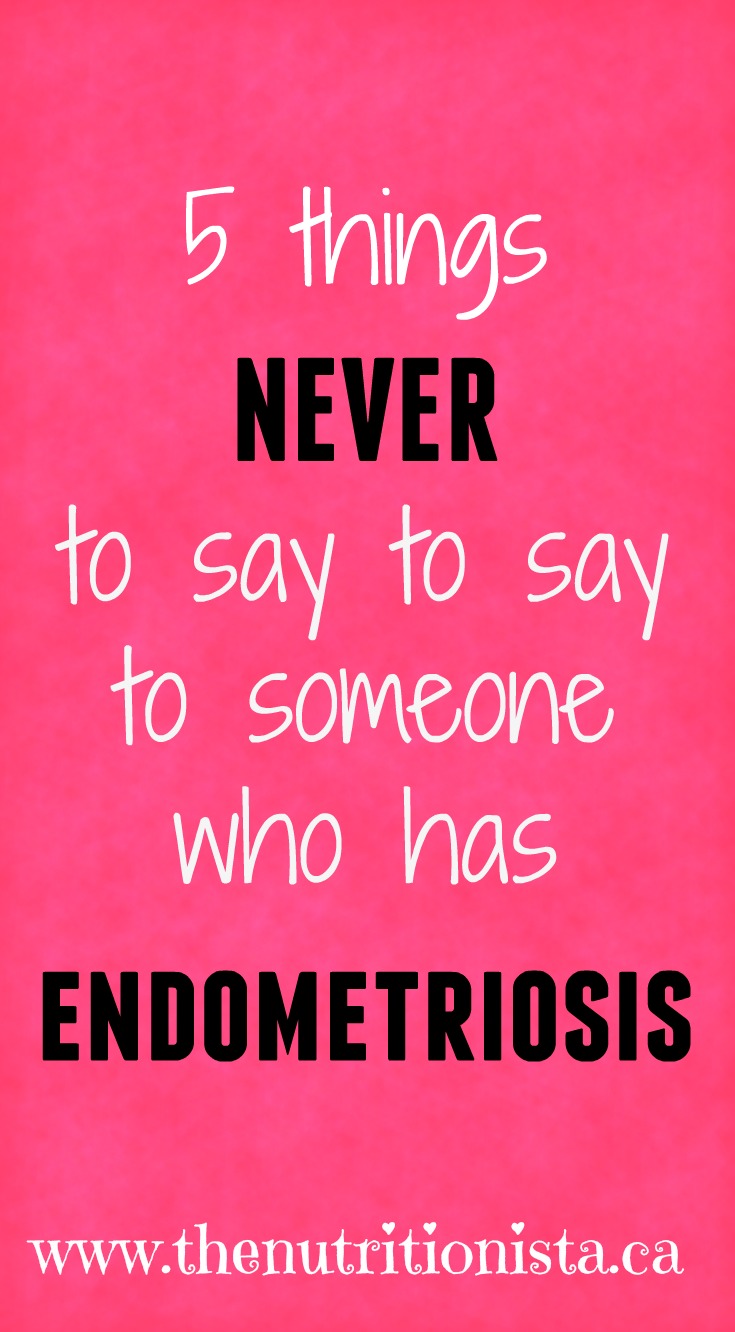 "Just have a baby.  My friend's aunt cured herself that way."
Although it is a common misconception, endometriosis is not "cured" by pregnancy or menopause.  While some women find their symptoms improve during pregnancy and nursing, more often than not the pain returns.  To add insult to injury up to half of all women with endometriosis struggle with infertility and subfertility.  So even if this myth were true, it is out of reach for far too many infertile women who desperately want a baby.
"When are you due?"
Many people don't realize this, but endometriosis can cause a lot of bloating.  This bloating is often humorously referred to as "endo belly" in the endometriosis community.  It can be due to inflammation, intestinal adhesions (scar tissue), bowel disease, food sensitivities and even muscle dysfunction among other causes.  This is a problem when well-intentioned people mistakenly congratulate women on their "pregnancy" when in fact they are bloated due to a disease that is the leading cause of female infertility.  It can be a devastating experience for everyone involved.  As a general rule, don't ask about or congratulate anyone on their "pregnancy" unless she herself has shared with you that she is expecting.
"I've read that if you don't believe you have an illness, it will go away on its own.  You must really want to be sick."
This is perhaps the most offensive one we hear.  Endometriosis is not caused by trauma, abuse, rejection of femininity, negative energy, or any other psychosomatic cause. The truth is that it develops very early in embryonic life, long before we have even developed consciousness.  It is predetermined and truly is not something you have brought onto yourself.  It isn't a character flaw.  It isn't your fault.  Effective treatment exists, but requires expert professional care.  The disease unfortunately cannot be wished away.

"What is helpful to say instead?"
Let go of old myths, dismissive attitudes and misconceptions.  Learn up to date information about this disease; most of the information and attitudes out there lag far behind modern research.  We need to have an open, honest, and accurate discussion about endo and abolish any feelings of taboo, embarrassment or shame about having or discussing a gynecological disease or symptoms.  Nothing will change if we keep the disease, research and very real struggles a secret.  Combining a keen modern understanding of the disease along with empathy and support can go a long way in improving quality of life and relationships.  With accurate education, healthy coping skills, and finding effective expert integrative treatment, those living with endometriosis can live the healthy, vibrant and even pain-free lives they deserve.
Endometriosis Resources:
Pacific Endometriosis and Pelvic Surgery
Nancy's Nook Facebook Endometriosis Education and Discussion Group
And of course many dietary resources here at www.thenutritionista.ca
What has been the most frustrating thing that people in your life have said to you about your endo?  How do you respond to such comments?  Let me know in the comments below, and on Facebook and Twitter!
—
Love what you are reading?  Stay in the loop and never miss a recipe; get the FREE Nutritionista ezine for free expert tips, success strategies, delicious healthy recipes and VIP offers and get Erin's exclusive guide of the Top Ten Foods to Banish From Your Kitchen ($24.99 value) absolutely free!  Get ready to nourish yourself sexy!
You might also like…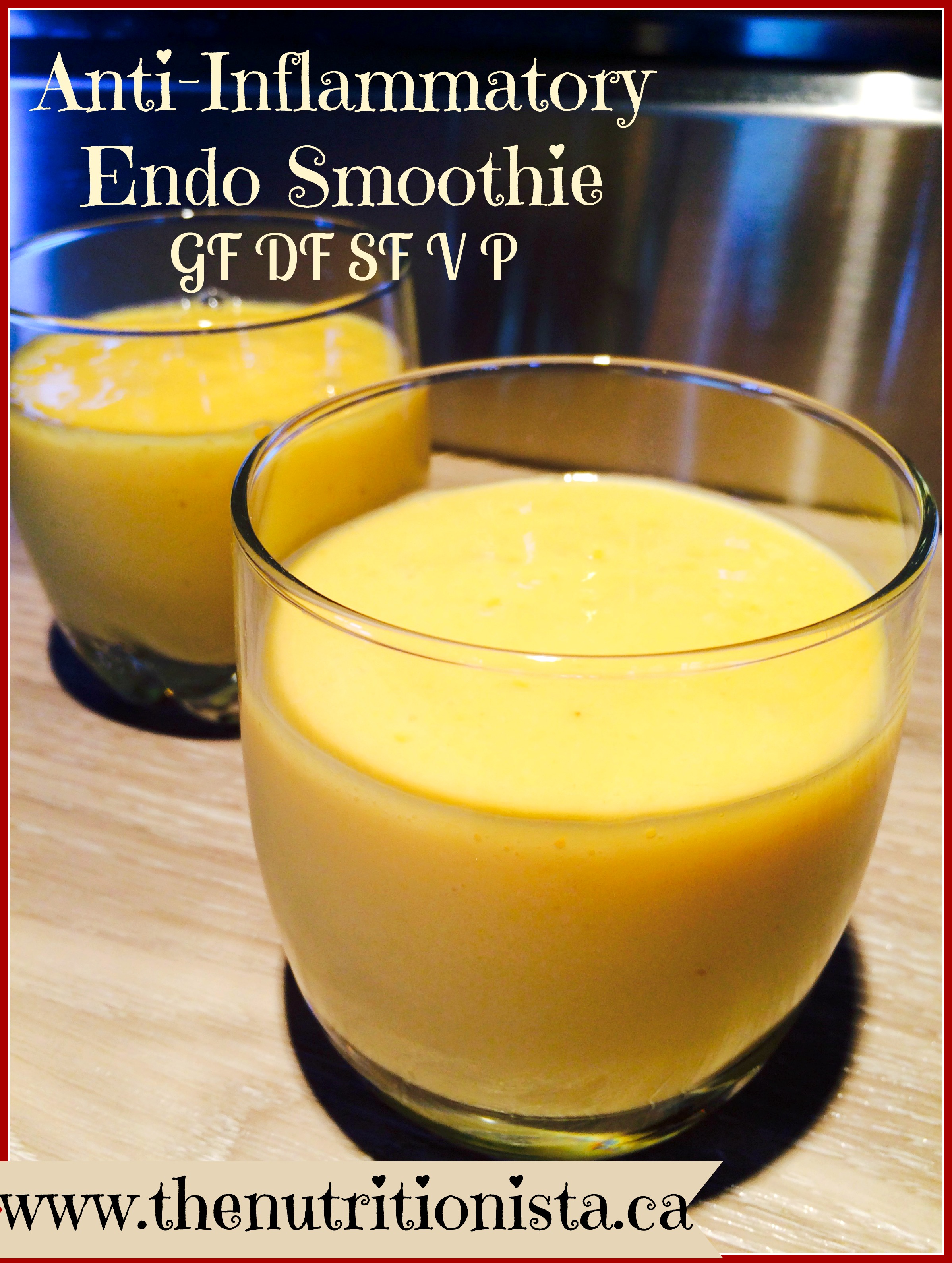 © 2015 Nutritionista.  Erin Luyendyk, RHN.  All rights reserved.
This article is intended as general educational material only and should not be considered medical or nutritional advice.  Please consult with your personal physician before implementing any nutrition, supplement or exercise program to ensure its safety and suitability for your specific individual situation.