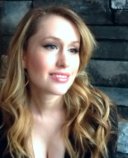 Erin Luyendyk RHN is a Registered Holistic Nutritionist, Nutrition Educator and Raw Chef practicing in beautiful British Columbia, Canada.  Erin graduated with an Honors diploma in Holistic Nutrition from the Canadian School of Natural Nutrition in 2009 and obtained her Advanced Raw Chef certification from the Raw Foundation Culinary Arts Institute in 2012.  She has a decade of experience in the health, weight loss and nutrition industry helping clients from all walks of life achieve their weight loss goals and has a strong background in medical aesthetics and skincare.  Erin developed her passion for clinical nutrition after improving her own personal health crisis in 2003 through nutrition when conventional medicine and multiple surgeries did not provide adequate relief.
Erin is well versed in all areas of clinical holistic nutrition, however she holds a special expertise in nutrition for women; particularly using integrative nutrition to help manage endometriosis, polycystic ovarian syndrome and premenstrual syndrome.  She also holds a special passion for beauty foods.  Her nutrition philosophy is centered on the core value that a whole food, anti inflammatory diet is a key component of the comprehensive management of many of the chronic health conditions we suffer from today.  Eating well opens the doors to discovering an endless variety of delicious, vibrant, energizing foods that help us feel and look our very best.  We simply cannot be healthy when we are eating sick food.
Erin consults with motivated clients in Vancouver, Calgary, Invermere, across Canada and worldwide via Skype and is presently accepting new like-minded clients who have the intention of permanently transforming their health, lifestyles and lives for the better.  She also consults with Naturopathic Doctors and health professionals across Canada and the United States providing balanced, detailed personalized diet programs for their patients to help manage everything from food allergies and IBS to heart disease and cancer.  In addition, Erin collaborates with a variety of businesses and organizations to develop products and healthy menu options, write nutrition articles and create whole food nutrition and cooking workshops.
For more information, media inquiries or to book your private consultation with Erin, please contact us and we would be happy to answer your questions and arrange your appointment.