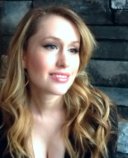 Erin Luyendyk RHN is a Nutrition Coach for women who are ready to get their sexy back and unleash their inner bombshell, healthy food blogger, women's health and beauty food expert, and Nutritionista lifestyle guru for her many online followers.
Her mission is to help women stop the endless cycle of diets; empowering and teaching them how to nourish their bodies and souls with real, exciting, whole foods that so they feel incredible, energized, sexy, and glowing from within.  Erin is passionate about teaching her clients and followers that eating well can be easy, fun, fabulous, and deliciously satisfying.  Food is supposed to be enjoyed, and we are supposed to feel incredible and beautiful!
Erin earned her diploma in Holistic Nutrition from the Canadian School of Natural Nutrition and Advanced Raw Food Chef Certification from Raw Foundation Culinary Arts Institute.  She has over ten years of experience in the health, nutrition, weight loss, and medical aesthetics industries, making her a powerhouse in the field with her unique expertise and fusion of nutrition and beauty.
Are you ready to unleash your inner bombshell?  Erin works with clients across Canada and around the globe.  Contact us now to book your session, and check out her blog and the life changing programs she offers to help you get healthy and feel fabulous once and for all.
Hold onto your heels beauties, and get ready to nourish yourself sexy!