Superfood detox salad
You know those days when you just need to detox and get back on track?  Maybe you indulged a little more than you intended, or had a bit too much fun the night before (have you tried my 3 steps for getting rid of a hangover yet?).  Or the usual long weekends, vacations, getaways, and the holidays.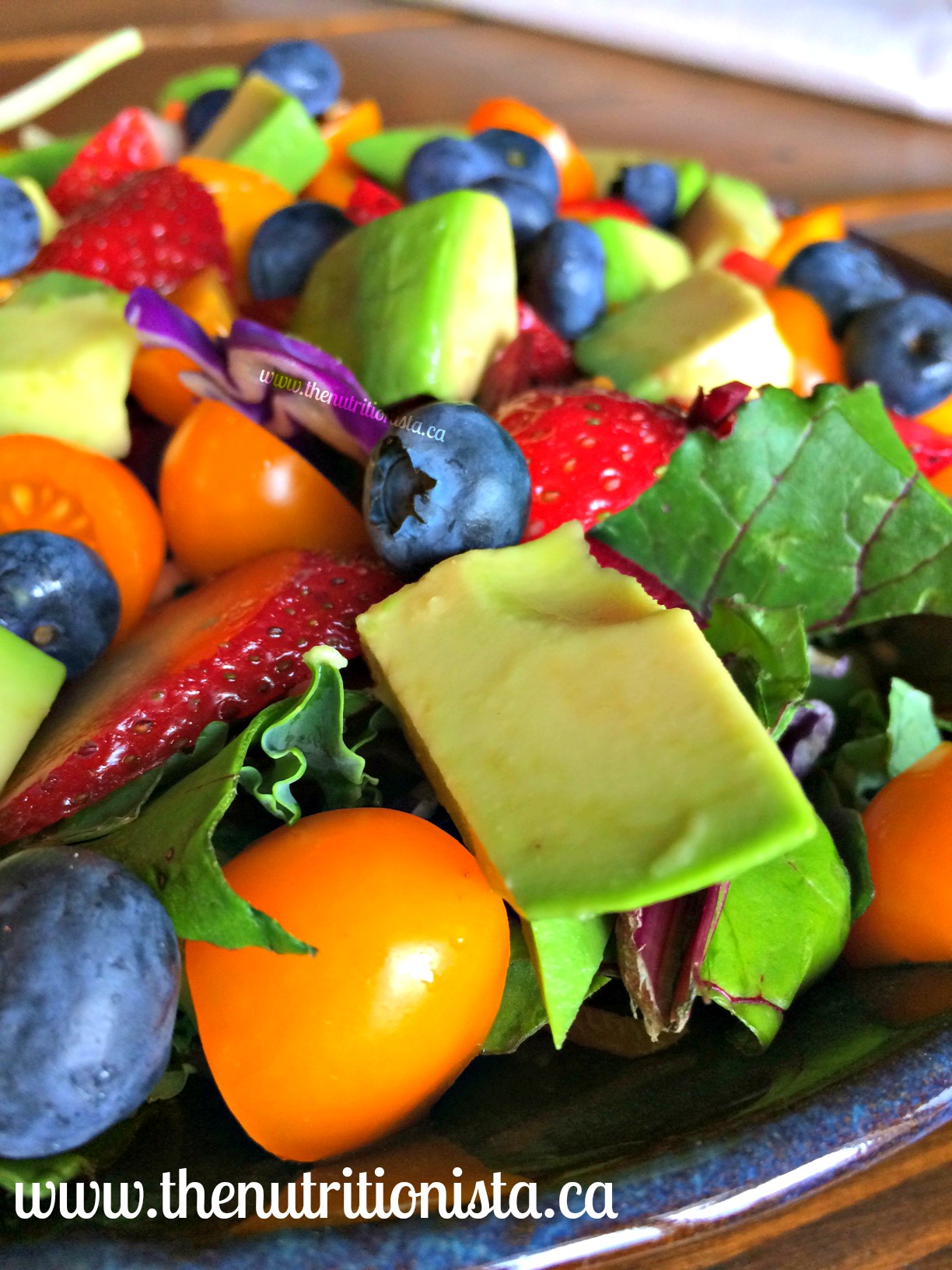 The best way to get back on track is to stop beating yourself up.  Seriously.  Stop.
I will wait.
Done?  Good. That shit will only drive you crazy and make you miserable, and you deserve so much better than that.
Now jump right back onto your usual healthy routine without procrastinating.  What does that mean?  Lots of veggies!  Lots of greens!  Lean protein!  Healthy fats!  Antioxidants!
My superfood detox salad is packed with nutrients, antioxidants, and healthy fats for glowing skin.  It is also full of key nutrients to support the liver in detoxifying previous over indulgences, helps you feel great, and of course is super yummy to eat.  Especially when you pair it with my two minute Strawberry Vinaigrette dressing below.
If you like you can  add some cooked lean protein of your choice, like hard-boiled egg, chicken, turkey, or salmon, to round it out as a balanced meal.
Doesn't it feel great to be back on track?  xoxo
Superfood Detox Salad
4 C mixed baby greens
2 C of thinly sliced and massaged kale
1 C red cabbage, julienned or spiralized
1 C carrot, julienned or spiralized
1 C broccoli stalk (peeled), julienned or spiralized
1 C beet (peeled), julienned or spiralized
1 1/2 C cherry or grape tomatoes, halved or quartered
1 1/2 C mixed berries: blueberries, sliced strawberries, blackberries, saskatoons, raspberries
1 large avocado, cubed
1/3 C chopped raw almonds
Add all Superfood Detox Salad ingredients into a large salad bowl.  Drizzle with Strawberry Vinaigrette, and toss until fully combined and all salad ingredients are lightly coated with dressing.  Enjoy!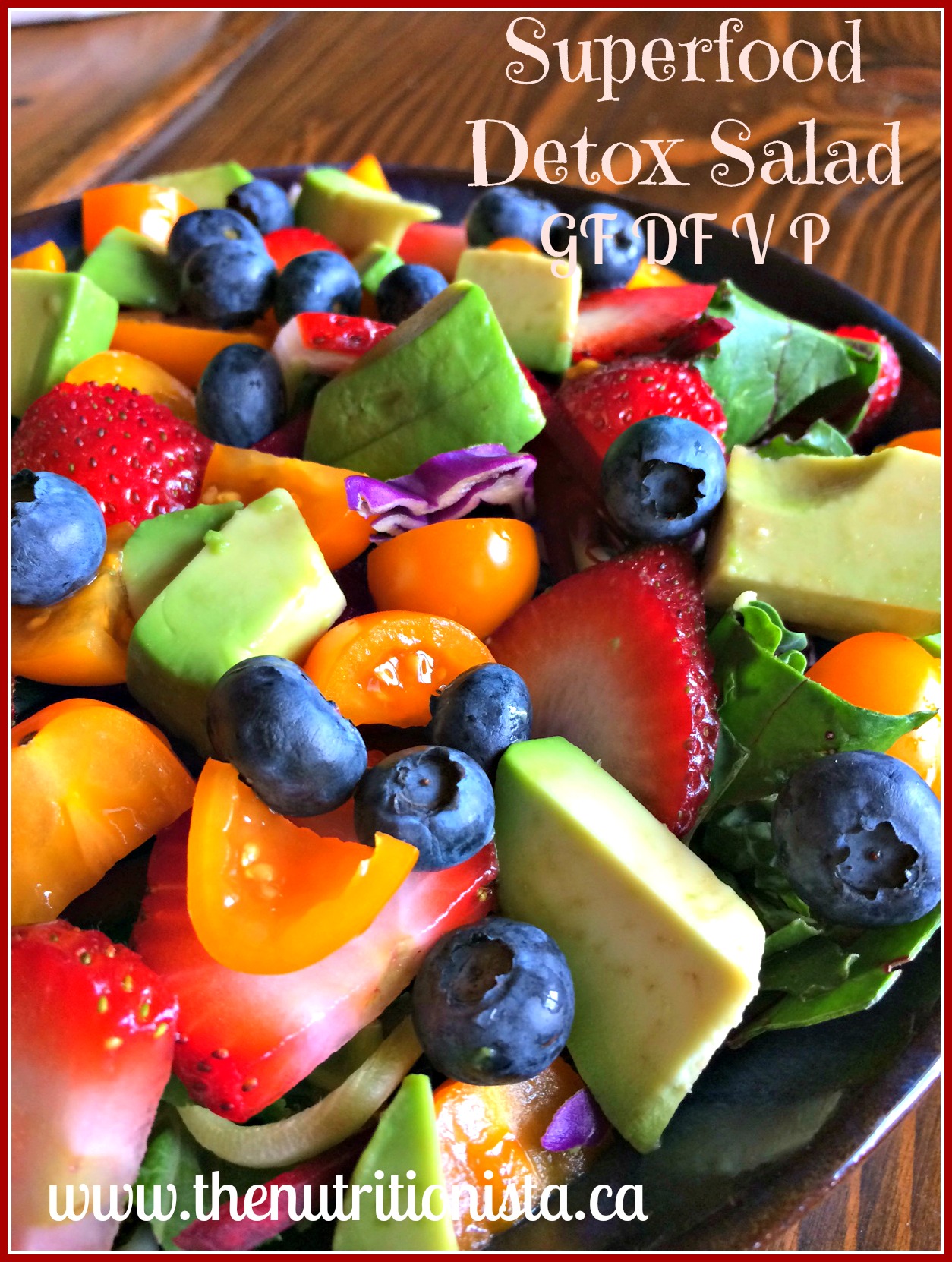 Strawberry Vinaigrette
1 C fresh strawberries
1/4 C lemon juice
1/2 C first cold pressed extra virgin olive or avocado oil
1/4 C first cold pressed hemp, flax, or walnut oil
1 Tb B grade maple syrup
Pink Himalayan rock salt and fresh black or white pepper to taste
Place all strawberry vinaigrette ingredients in a Vitamix or high speed blender.  Cover tightly and blend until smooth.  Taste, adjust for seasoning, and serve immediately.  Enjoy!
Variation: try this using fresh raspberries, blackberries, blueberries, saskatoons, or mixed berries for more delicious options all season long.  In a pinch, thawed frozen berries will also work.  Just make sure to use just frozen berries, with no sugar, sweeteners, or syrup.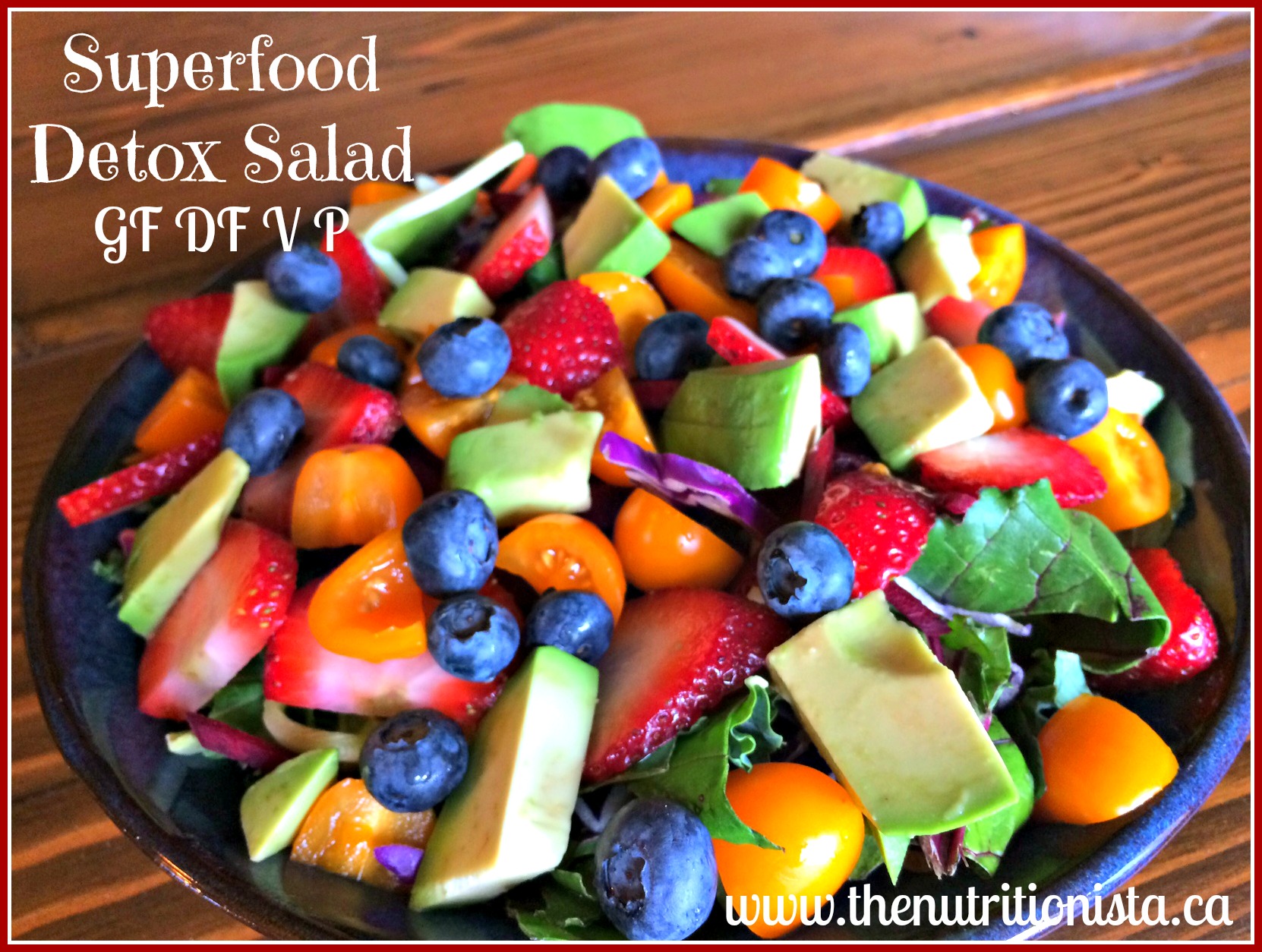 What is your favorite way to get back on track?  How did this superfood detox salad turn out for you?  Let me know in the comments below and on Facebook, Instagram, and Twitter!

—
Love what you are reading?  Stay in the loop and never miss a recipe; get the FREE Nutritionista ezine for free expert tips, success strategies, delicious healthy recipes and VIP offers and get Erin's exclusive guide of the Top Ten Foods to Banish From Your Kitchen ($24.99 value) absolutely free!  Get ready to nourish yourself sexy!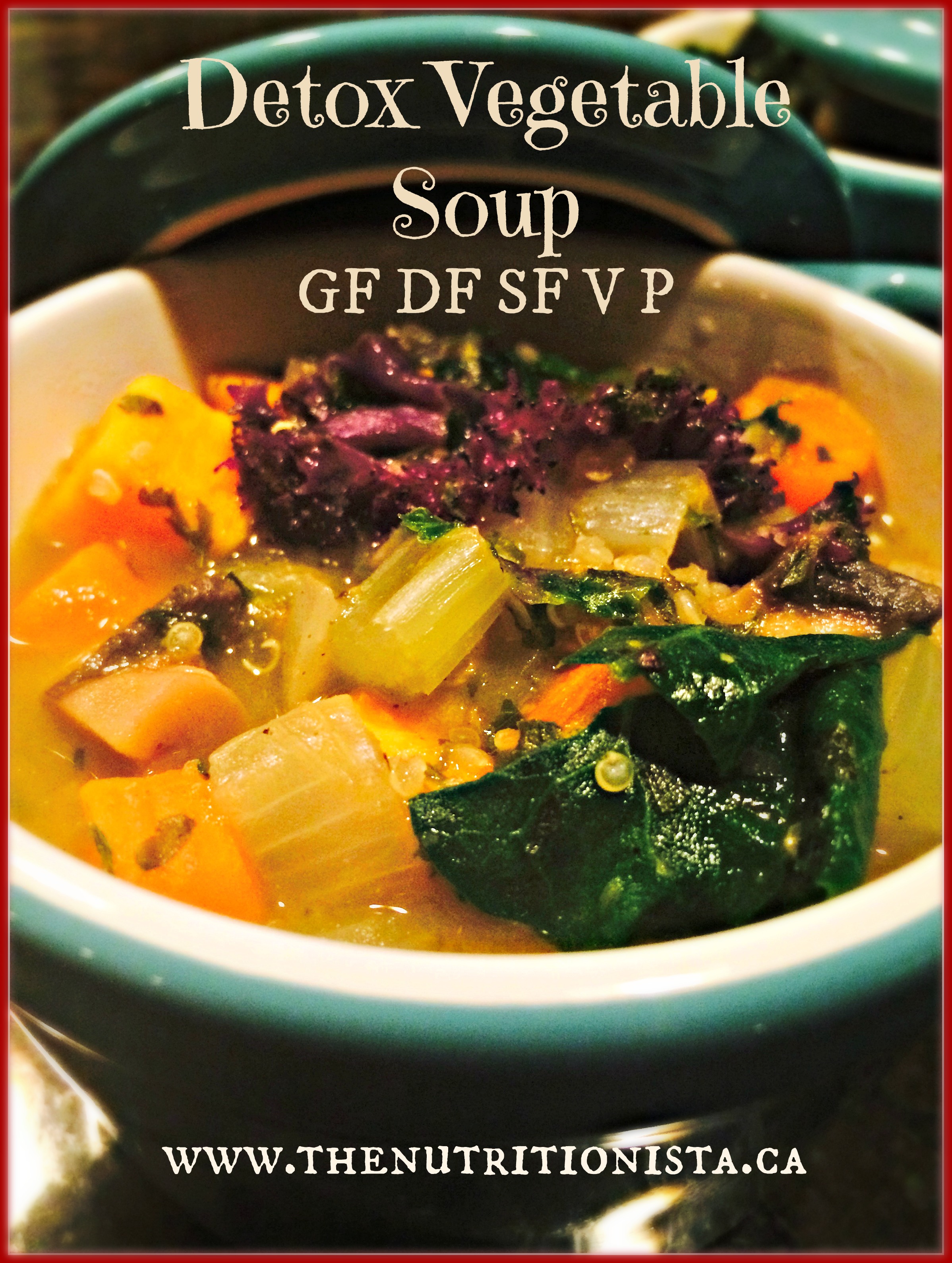 © 2017 Nutritionista.  Erin Luyendyk, RHN.  All rights reserved.
All material found on www.thenutritionista.ca is intended as general educational material only and should not be considered medical or nutritional advice. It is not intended to diagnose, treat, or cure any medical condition and has not been evaluated by the FDA.  Please consult with your personal physician before implementing any nutrition, supplement or exercise program to ensure its safety and suitability for your specific individual situation