January.  The holidays are over.  It's cold outside – seriously; it has been down to -30C here.  We're all craving warm, healthy, comfort food to help us detox after December indulgences.  Hearty, cozy, veggie-packed detox soup, anyone?  I don't know if you have been sick, but I had a wicked virus over Christmas/New Year's and this detox soup, ginger goji tea, and unsweetened sparkling water were my mainstays while I kicked the virus.  You might even add a little extra garlic to the soup if you are fighting a cold or the flu.
This detox vegetable soup is nutrient dense, packed with ingredients that are anti-inflammatory, detox supporting, and immune boosting.  But it is really quick and easy to make.  I like making a big batch, cooling it, and then freezing the soup in silicone muffin tins (easy removal and clean up), then keeping the "soup pucks" in a heavy duty freezer bag.  That way I can grab just what I need, even for a single serving, for a quick and healthy lunch or dinner.
I love this soup with a spinach salad and gluten free cheddar herb scones, fresh from the oven.  Maybe even apple crisp for dessert if you are feeling decadent.  That sounds like a perfect winter Sunday night, yes?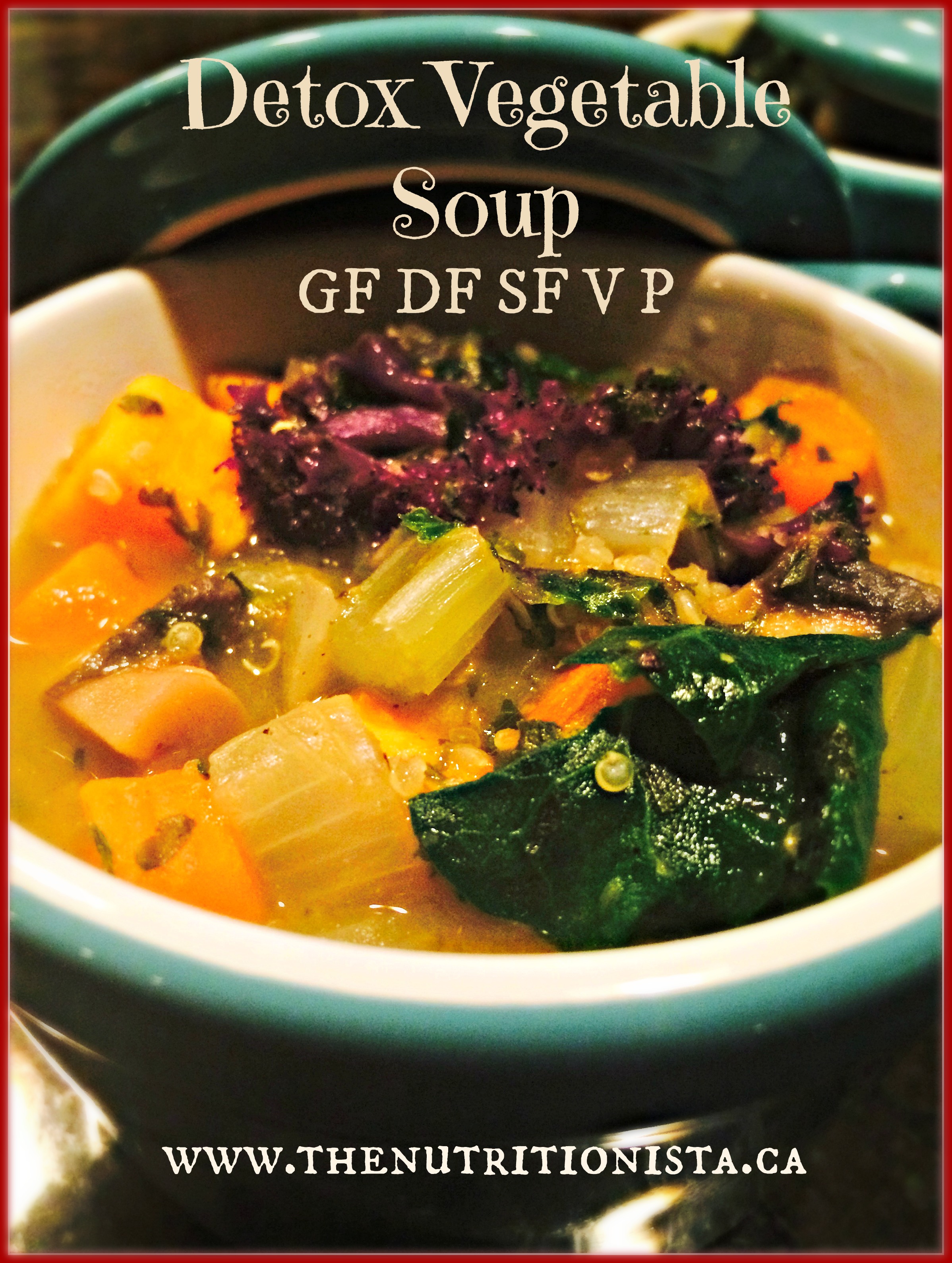 Detox Soup
2Tb coconut oil
1 large onion, diced
1/2 C carrots, diced
1/2 C celery, diced
2 C chopped mushrooms
4 cloves garlic, minced
6 C low sodium, MSG-free, gluten free vegetable or mushroom broth
2 C sweet potato, diced
2 bay leaves
1 Tb dried thyme (or 2 Tb fresh)
1 Tb dried parsley (or 2 Tb fresh)
1 tsp dried marjoram
1 tsp dried turmeric
1 tsp dried reishi mushroom powder
Pink Himalayan rock salt and fresh black pepper, to taste
1/4 C rinsed sprouted quinoa (optional, skip if you want this vegetable soup to be paleo)
1/2 C green beans, chopped
3 C kale, chopped
1 C arugula, chopped
In a large soup pot, melt the coconut oil over medium heat.  Once hot, add the onion and saute for 2 minutes.  Add the carrots and celery and saute for another few minutes.  Then add the mushrooms and garlic, and cook while stirring, for 2 minutes.
Broth, sweet potatoes, bay leaves, thyme, parsley, marjoram, turmeric powder, reishi mushroom powder, and seasonings to taste.  Bring back up to a boil and simmer for 15 minutes, stirring occasionally.  Add the quinoa, if using, and simmer for an additional 10 minutes, stirring occasionally. If the broth starts to reduce too much, add additional broth or water 1/2 a cup at a time until it is your desired level of broth to veggies.
Carefully remove the bay leaves and discard.  Add the green beans, kale and arugula and stir, simmering for 5-10 minutes more until the greens are wilted and the beans are tender crisp.  Enjoy!  xoxo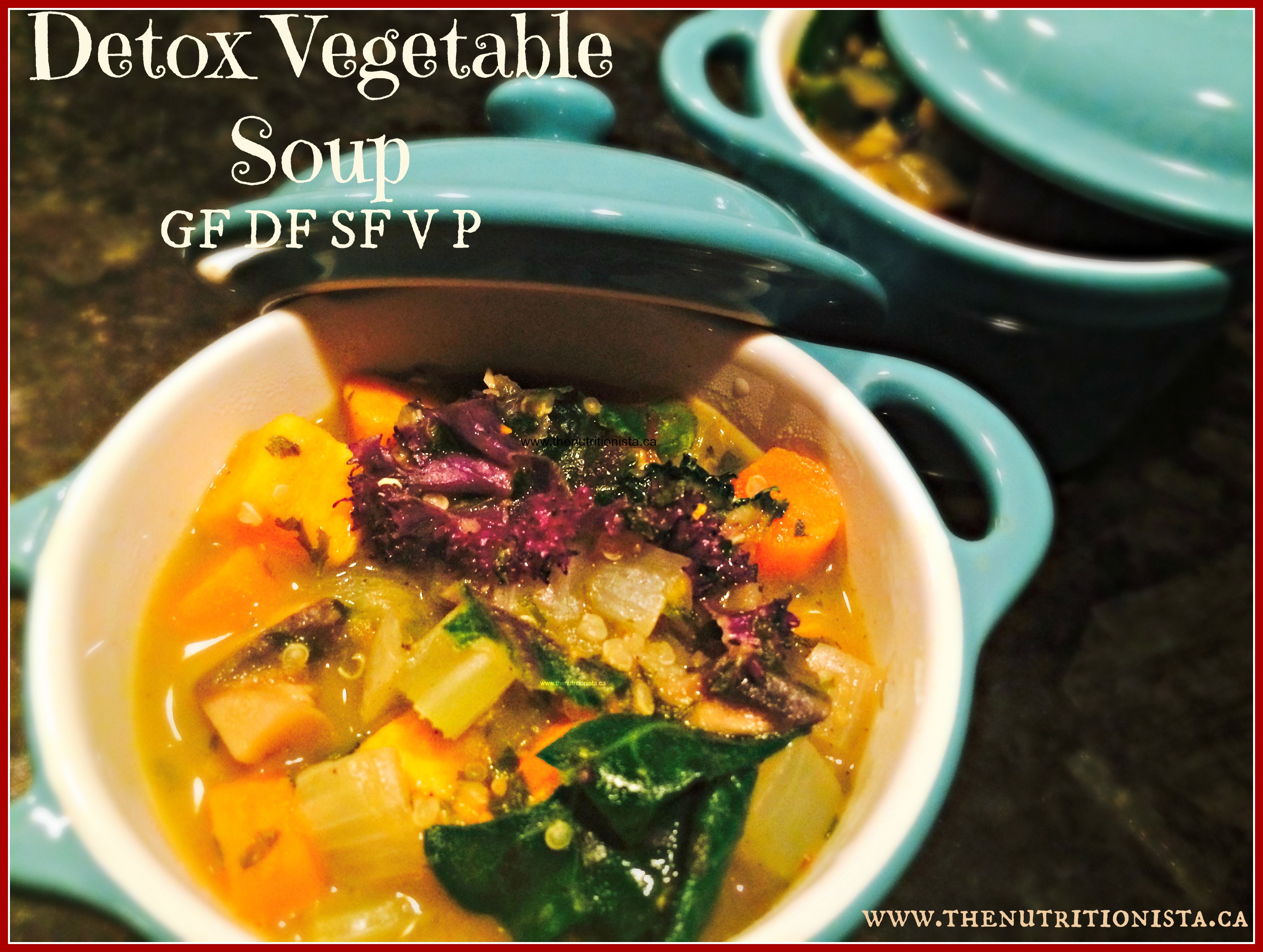 What is your favorite healthy winter comfort food when sick or detoxifying?  How did this Detox Soup turn out for you?  Let me know in the comments below and on Facebook, Instagram, and Twitter!
—
Love what you are reading?  Stay in the loop and never miss a recipe; get the FREE Nutritionista ezine for free expert tips, success strategies, delici ous healthy recipes and VIP offers and get Erin's exclusive guide of the Top Ten Foods to Banish From Your Kitchen ($24.99 value) absolutely free!  Get ready to nourish yourself sexy!
© 2017 Nutritionista.  Erin Luyendyk, RHN.  All rights reserved.
All material found on www.thenutritionista.ca is intended as general educational material only and should not be considered medical or nutritional advice. It is not intended to diagnose, treat, or cure any medical condition and has not been evaluated by the FDA.  Always consult with your personal physician before implementing any nutrition, supplement or exercise program to ensure its safety and suitability for your specific individual situation.