Can you tell that I have been on a winter comfort food kick lately?  Winter has been pretty brutal this year; cold and lots of snow.  As evidenced by the 4 day winter storm we are presently in the midst of.  So I make soup (like this healthy ramen noodle bowl), bake, snuggle up with fluffy blankets and my heating pad, and binge-watch American Horror Story ("Murder House", "Asylum", and "Hotel" are my favorites).  What is your favorite AHS season?
Traditional ramen noodles, while delicious, are notoriously unhealthy; packed with sugar, salt, MSG, and bad fats.  But there is always a better way.  My quick and easy healthy ramen noodle bowl is low calorie, low carb, gluten free, grain free, dairy free, soy free, sugar free, paleo, and vegan, yet has all of the savory, slurpable, ramen noodle yumminess of the original.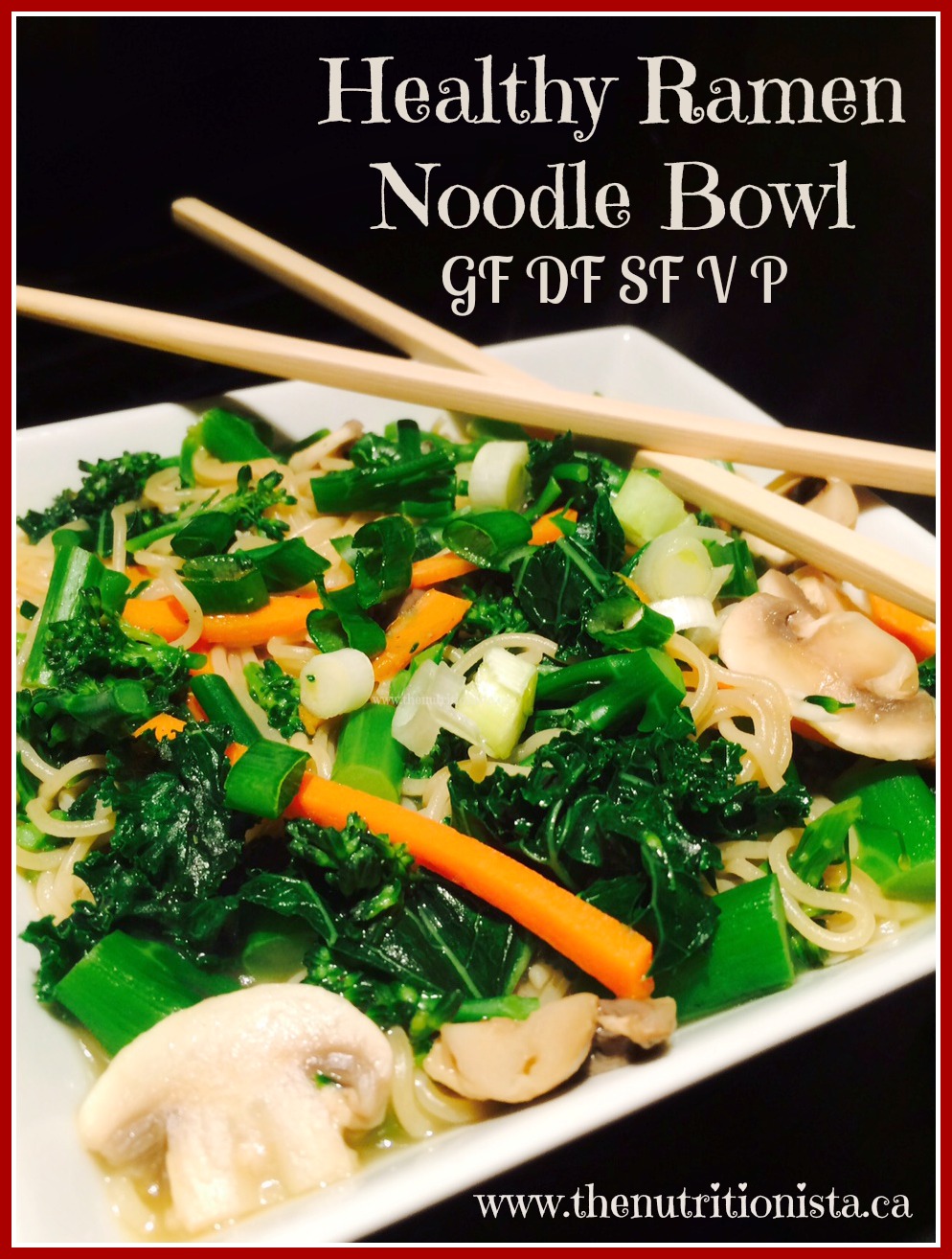 I like a lot of noodles and veggies with not too much broth, but feel free to adjust the noodle:veggie:broth ratio to satisfy your cravings.  Enjoy!  xoxo
Healthy Ramen Noodle Bowl
2 Tb coconut oil
1 small onion, diced
1 cup chopped mushrooms (your choice of cremini, portabella, or Asian mushrooms)
4 cloves of garlic, minced
2-3tsp minced fresh ginger
6 cups low sodium, gluten-free, and MSG-free vegetable broth (if you aren't vegetarian you could use chicken or bone broth instead)
1/3 cup low sodium coconut aminos
Fresh chili to taste (optional)
Pink Himalayan rock salt and fresh black pepper, to taste
3 cups of mixed chopped vegetables: broccoli, carrot, bell pepper, green beans, snow peas, cauliflower, etc.
4 cups zucchini noodles, drained and rinsed
3 cups chopped greens: kale, bok choy, spinach, collards
Garnish: chopped cilantro, green onion, shredded purple cabbage, and/or more low sodium coconut aminos
Optional Protein: hard-boiled egg, sliced, cooked chicken, turkey, or lean beef, or organic non-GMO tempeh
In a large soup pot, melt the coconut oil over medium heat.  Add the onion and saute for 3 minutes, or until they begin to turn translucent.  Add the mushrooms and saute for an additional three minutes, stirring occasionally.  Add the garlic and ginger, stirring constantly for 30 seconds.
Add the broth, coconut aminos, fresh chili, and season to taste.  Bring to a boil and reduce the heat to a simmer.  Add the chopped vegetables and simmer, 10 minutes, or until vegetables are nearly tender-crisp.  Add the zucchini noodles and greens and simmer for 3-5 minutes, or until heated through and the greens are wilted.
Spoon soup into bowls and garnish with cooked protein, additional vegetables, and herbs.  Serve immediately and enjoy!  xoxo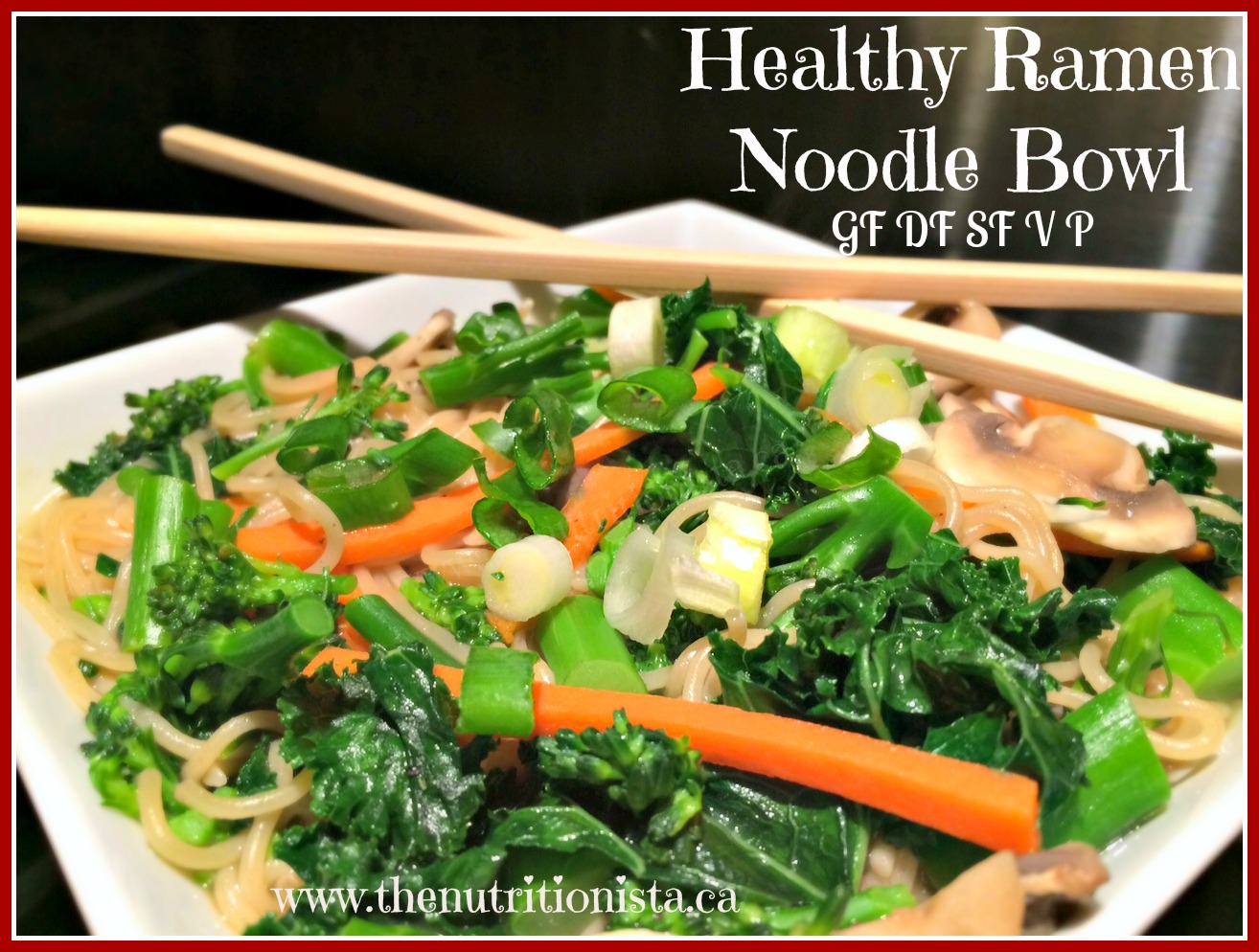 What is your favorite healthy winter hibernation food?  How did this Healthy Ramen Noodle Bowl turn out for you?  Let me know in the comments below and on Facebook, Instagram, and Twitter!
—
Love what you are reading?  Stay in the loop and never miss a recipe; get the FREE Nutritionista ezine for free expert tips, success strategies, delici ous healthy recipes and VIP offers and get Erin's exclusive guide of the Top Ten Foods to Banish From Your Kitchen ($24.99 value) absolutely free!  Get ready to nourish yourself sexy!
© 2017 Nutritionista.  Erin Luyendyk, RHN.  All rights reserved.