It's BBQ season!
Typically at a family BBQ, I stick with a grilled portobello mushroom, grilled veggies, and salad.  But my gluten free berry crisp is the most perfect sweet ending of a summer meal with family and friends.
Berries are in season right now, so definitely take advantage of them!  Buy local, if possible (we are so lucky to have a couple of fantastic small local family owned farms here), or even pick your own if you are less of a princess braver about bugs have more of a green thumb or are near a U-Pick farm.  The fresher they are, the better!
If fresh berries aren't available, or you are making this in the middle of winter, frozen berries also work.  Just make sure they are unsweetened frozen berries.  No added sugar, sweeteners, starches, or syrups.  Only berries.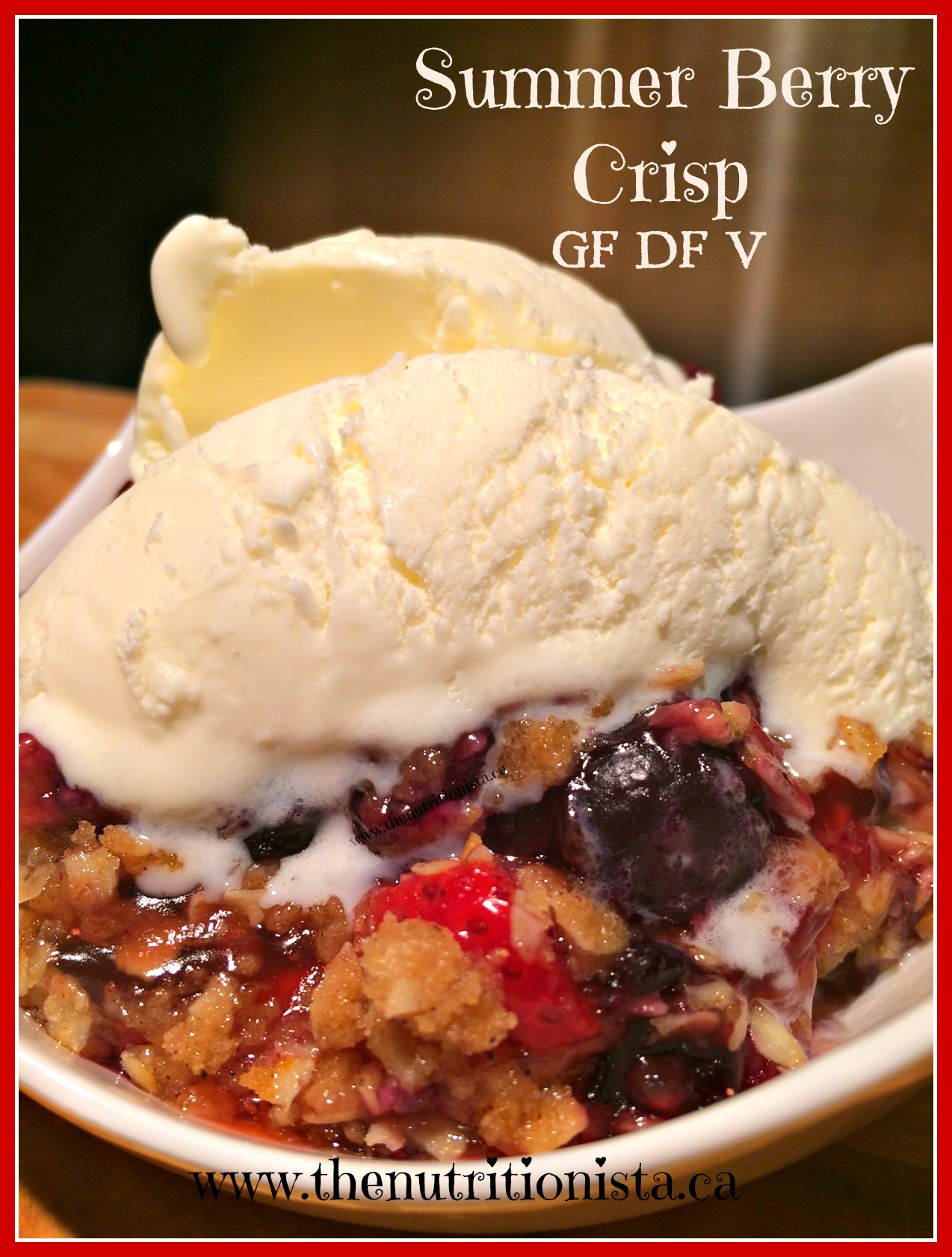 Gluten Free Berry Crisp
1 1/4 C old fashioned gluten-free oats
1/4 C coconut flour
1/2 C coconut sugar
1/2 C melted grass-fed butter or coconut oil
1 tsp ground cinnamon
1/2 tsp salt
6 C mixed berries: any combination of sliced strawberries, blueberries, raspberries, saskatoons, blackberries, huckleberries, pitted halved cherries (50/50 strawberries and blueberries is my favorite combination).
1/3-1/2 C B grade maple syrup (I use less)
2 tsp Konjac Powder
1/2 C water
1 Tb Ground Vanilla Bean Powder
or pure vanilla extract
1 Tb fresh lemon juice
1 tsp lemon zest

Preheat the oven to 350°F.
In a large mixing bowl, add the oats, coconut flour, coconut sugar, melted butter or coconut oil, and salt.  Mix well.  Press half of the mixture into the bottom of a 9 inch square pan.  Top with berries and set aside.
In a small bowl, whisk together the konjac powder with a tablespoon of water.  In a medium sauce pan, add the konjac powder mixture, maple syrup, and remaining water.  Cook over medium low heat, gently whisking constantly, until thickened.  Remove from heat and add vanilla, lemon juice, and lemon zest.
Carefully pour the sauce over the berries.  Sprinkle the remaining crumble mixture evenly on top.  Bake for about 45 minutes or until the berries are tender.  I haven't tried baking this on the BBQ, but it might just work if you have a temperature controlled BBQ with baking capabilities and a BBQ-safe pan. I would set the temperature a bit lower and keep a close eye on it to make sure it doesn't burn or bubble over.
Serve warm with vanilla banana ice cream.  Enjoy!  xoxo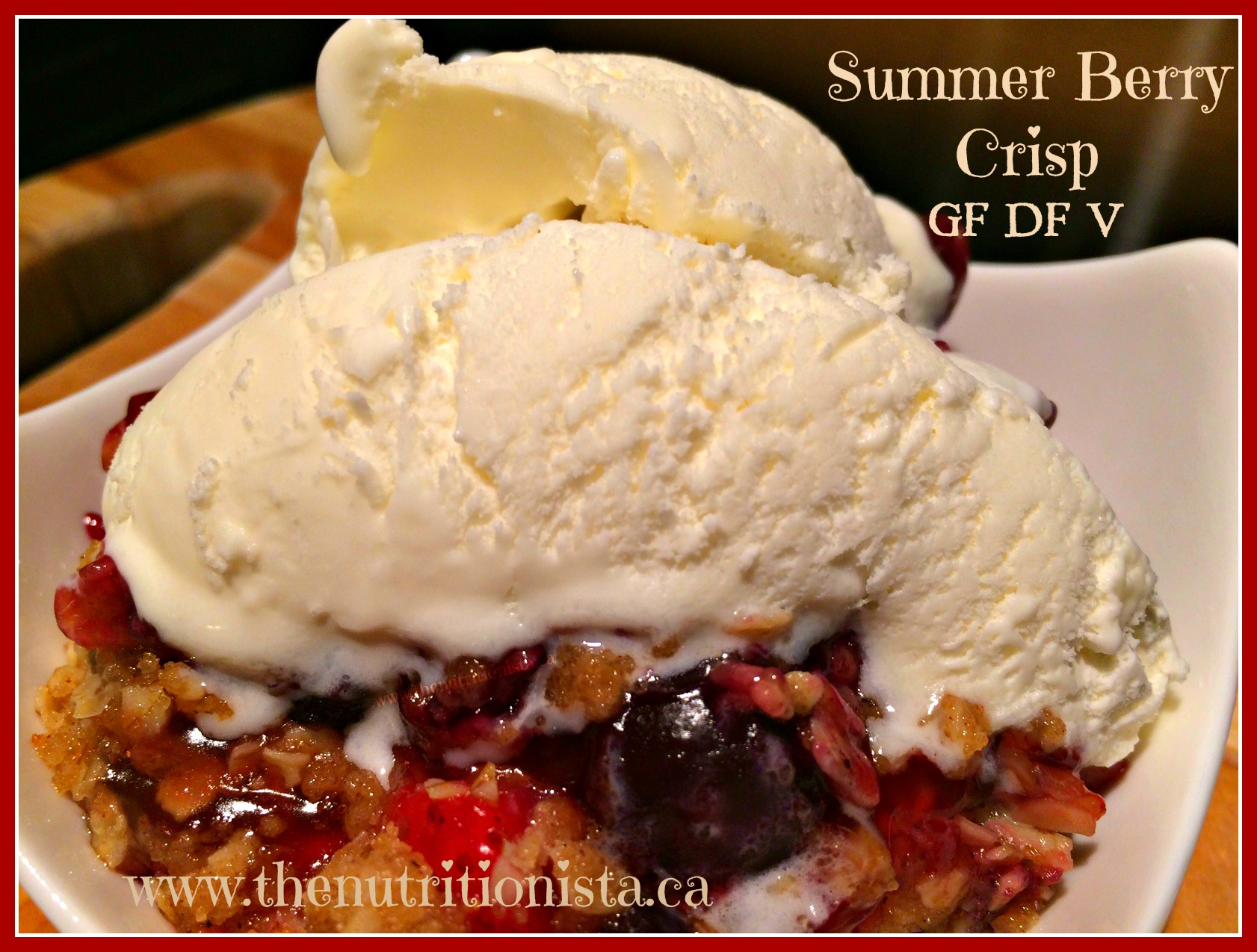 *Vegan and dairy-free if coconut oil is used instead of butter.
What is your favorite comfort food dessert?  How did this killer gluten free berry crisp turn out for you?  Let me know in the comments below and on Facebook, Instagram, and Twitter!

—
Love what you are reading?  Stay in the loop and never miss a recipe; get the FREE Nutritionista ezine for free expert tips, success strategies, delicious healthy recipes and VIP offers and get Erin's exclusive guide of the Top Ten Foods to Banish From Your Kitchen ($24.99 value) absolutely free!  Get ready to nourish yourself sexy!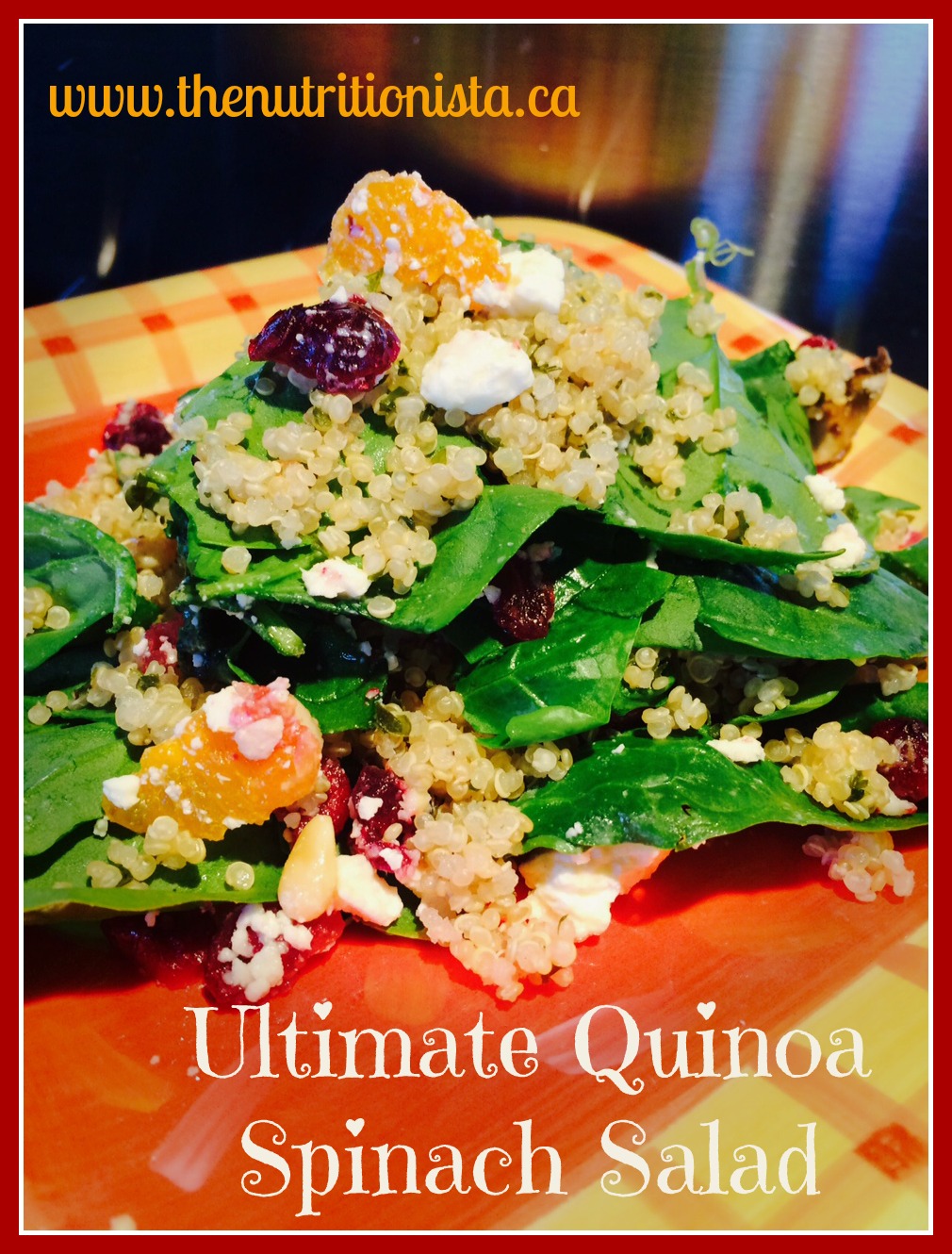 © 2017 Nutritionista.  Erin Luyendyk, RHN.  All rights reserved.
All material found on www.thenutritionista.ca is intended as general educational material only and should not be considered medical or nutritional advice. It is not intended to diagnose, treat, or cure any medical condition and has not been evaluated by the FDA.  Please consult with your personal physician before implementing any nutrition, supplement or exercise program to ensure its safety and suitability for your specific individual situation