I don't know about you, but I am a busy girl with lots on the go and love quick, easy, and healthy meals.  I don't have shitloads of time on the daily to spend three hours a day cooking, although I would love to have that kind of time to spend in the kitchen.  That is where salad rolls come into play.
Salad rolls are ridiculously quick and easy and with the right ingredients can be both healthy and delicious.  You can use up whatever veggies are in your fridge, and brown rice wrappers and vermicelli can be kept on hand as a basic pantry staple.
I love this particular combination because it's fresh, sweet (mango), as spicy as you like, and satisfying (avocado).  You can totally add cooked protein, such as shrimp or salmon too, if you want the extra protein.
Enjoy!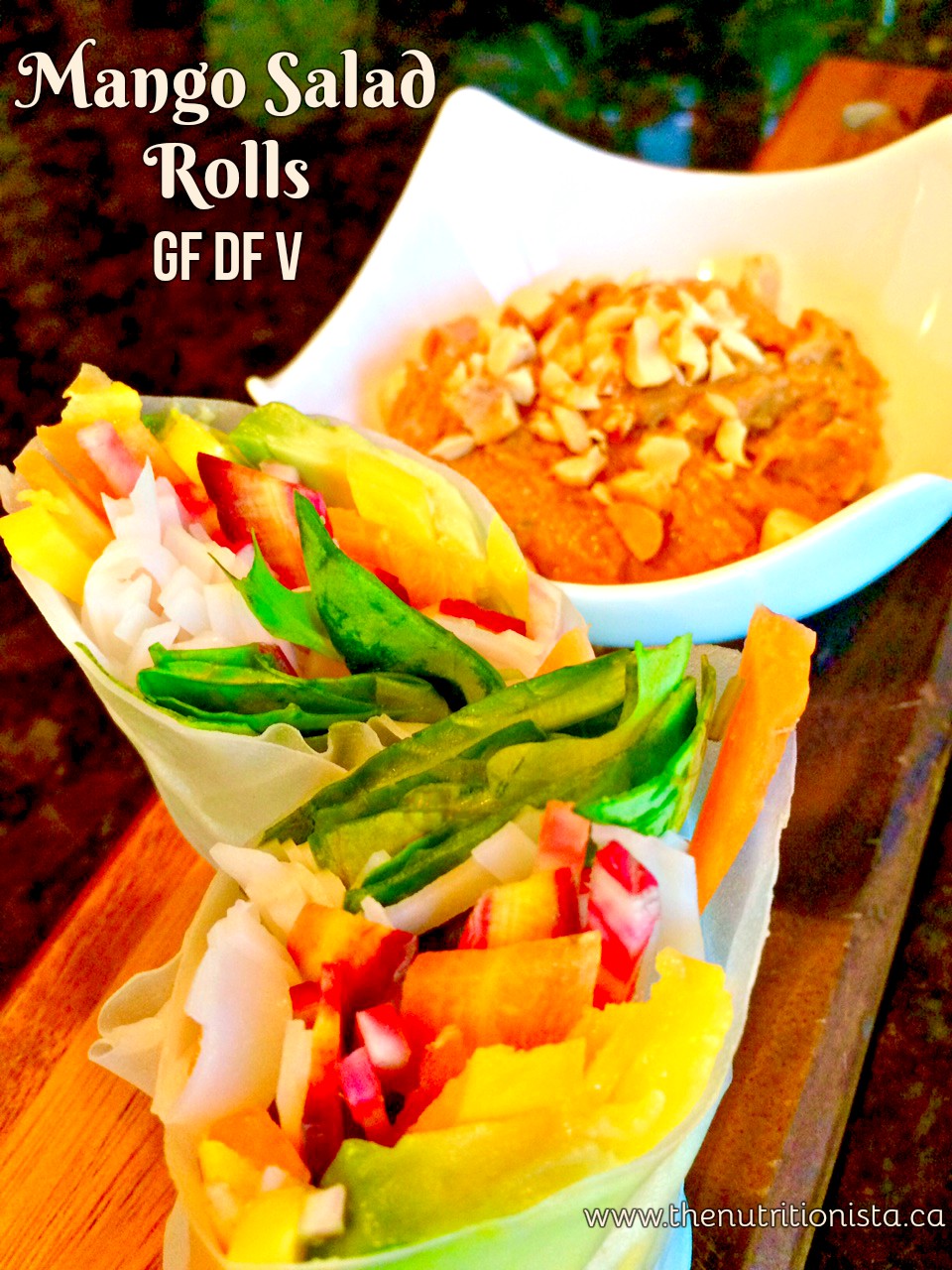 Salad Rolls with Peanut Sauce
1C julienned or spiralized carrot
1C julienned or spiralized beet; candy cane beets are exceptionally pretty in this recipe
1C julienned or spiralized red or yellow pepper (or both)
1 large ripe mango, peeled, pitted, and julienned
1 avocado, sliced
1/4C fresh basil or cilantro, chiffonade
100g brown rice vermicelli noodles or cooked and rinsed black bean noodles
Soak the rice noodles according to package directions.
Meanwhile soak one rice paper wrapper at a time according to package directions, taking care not to burn yourself.  Once pliable, remove rice paper from water and place on a cutting board.  In the centre of the wrapper, two thirds of the way from the top, add a sprinkle of basil or cilantro and a couple of slices of avocado.  Top with mango, spiralized carrot, beet, and pepper, a few noodles, and finish with a butter lettuce leaf or spinach.  Do not overfill or you will not be able to roll your salad roll.
Fold the right and left sides of the wrapper in towards the centre so the filling will not fall out of the sides.  Fold the bottom tightly up over the fillings, then roll the entire thing upwards to completely encase the fillings.  If the wrapper isn't sticking to itself (it should), add a little warm water to the edges and it should begin to stick.  Cut on the bias, and repeat with remaining ingredients.
Either chill the tightly covered salad rolls for a few hours in the fridge, or serve immediately with peanut sauce.  Enjoy!
What is your favorite quick, easy, and light lunch or dinner?  How did these superfood salad rolls with peanut dipping sauce turn out for you?  Let me know in the comments below and on Facebook, Instagram, and Twitter!

—
Love what you are reading?  Stay in the loop and never miss a recipe; get the FREE Nutritionista ezine for free expert tips, success strategies, delicious healthy recipes and VIP offers and get Erin's exclusive guide of the Top Ten Foods to Banish From Your Kitchen ($24.99 value) absolutely free!  Get ready to nourish yourself sexy!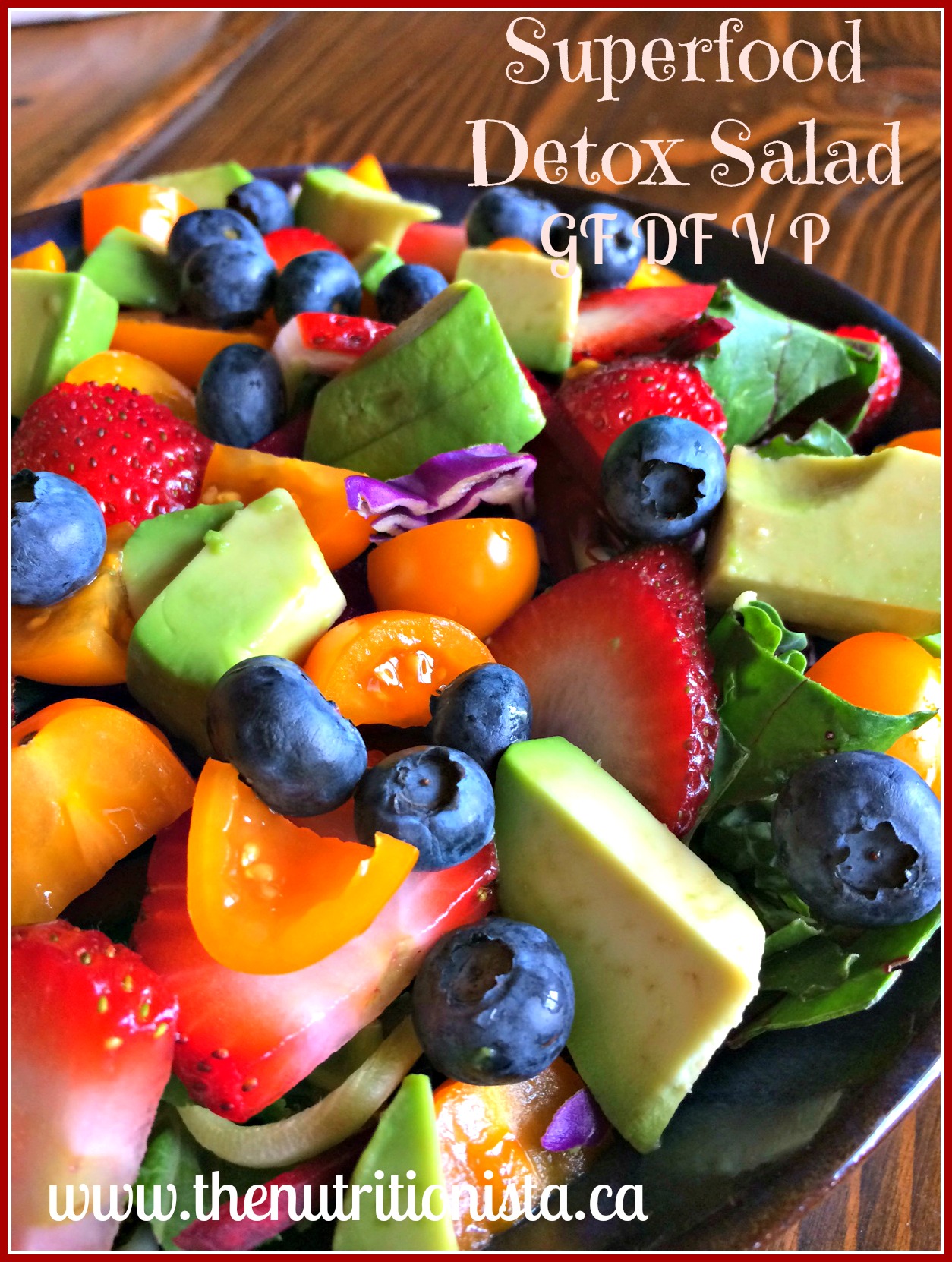 © 2017 Nutritionista.  Erin Luyendyk, RHN.  All rights reserved.
All material found on www.thenutritionista.ca is intended as general educational material only and should not be considered medical or nutritional advice. It is not intended to diagnose, treat, or cure any medical condition and has not been evaluated by the FDA.  Please consult with your personal physician before implementing any nutrition, supplement or exercise program to ensure its safety and suitability for your specific individual situation