Rihanna has been killing it since launching Fenty Beauty last fall.  The girl's on fire!
And for good reason.  Fenty Beauty has made a tremendous effort to create an inclusive brand that caters to all skin tones – including medium deep to very deep, very fair, and cooler skin tones which are ignored by many brands far too often.  We might get a few shades added months or years later, as an afterthought, but it is rare when we are proportionately included in any foundation line launch.  *Cough Tarte*   We can't buy from you if you don't offer our shades, after all.
THANK YOU Fenty Beauty!
Fenty Beauty Pro Filt'r Soft Matte Longwear Foundation comes in 40 shades from very fair to deep and claims "gives skin an instantly smooth, pore-diffused, shine-free finish that easily builds to medium to full coverage. The oil-free formula is made with climate-adaptive technology that's resistant to sweat and humidity, and won't clog pores so that wherever you are, it's going to work on your skin. Best of all, this longwearing, light-as-air texture is undetectable on skin — so you always look like you."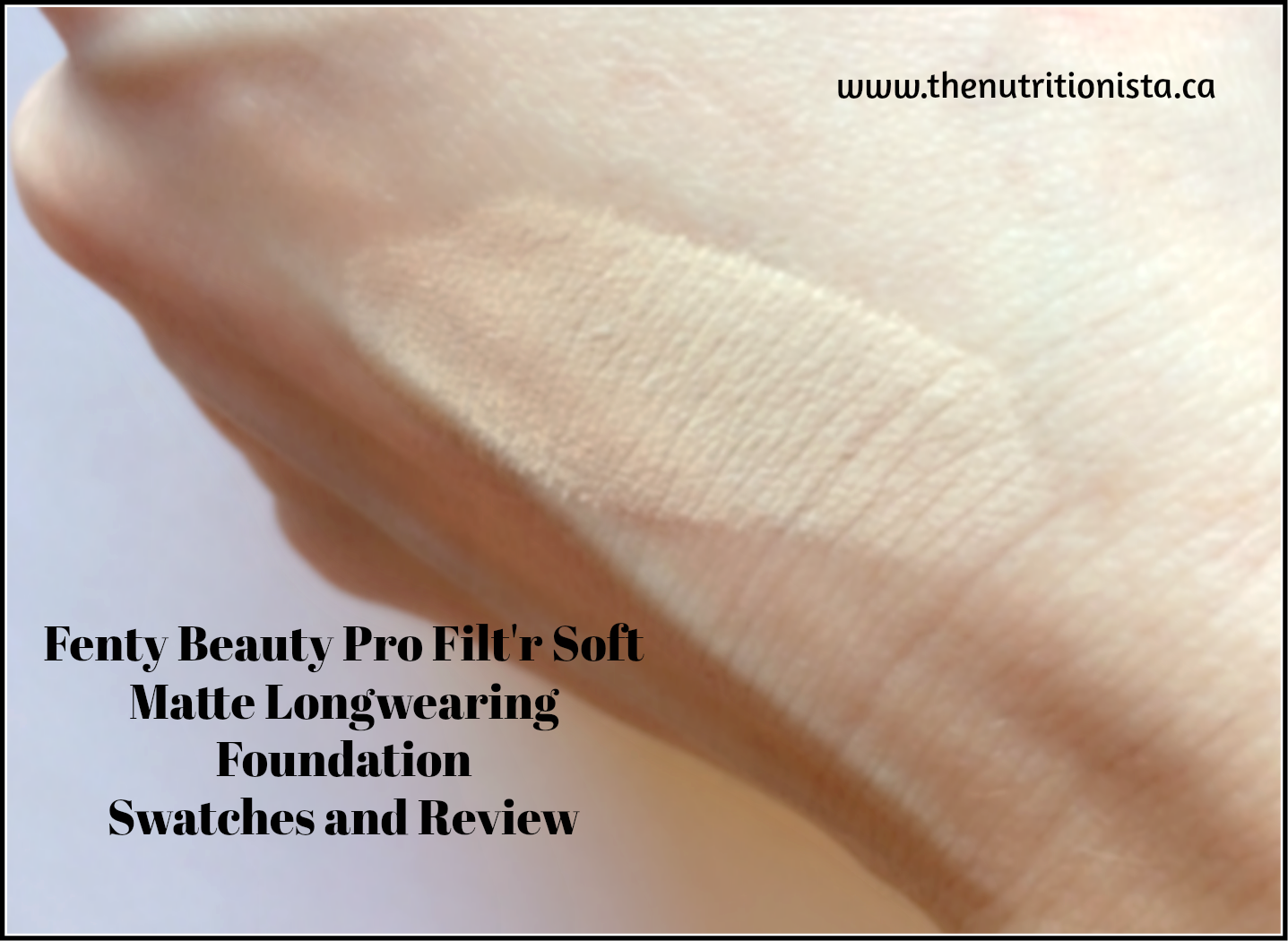 I agree, Fenty Pro Filt'r Soft Matte Longwear Foundation does provide a matte, medium-full to full coverage finish and feels very light on the skin.  I found it applied best with a damp Beauty Blender and looked too heavy and full coverage when applied with fingers or a brush.  It did not sting, burn, or irritate my skin at all, nor did it break me out.
And the color!  100, the lightest shade described as being "for very fair skin with neutral undertones", actually matches my skin perfectly.  This is a very rare feat indeed.  It was a touch pink upon initial application, but once it dried down it settled in nicely.
Unfortunately the formula didn't work well on my skin.  It was dry and cakey and did not look like natural skin on me, even when mixed with oil and applied very lightly over Becca First Light Priming Filter primer on very well moisturized skin.  I think this product is best suited for oily skin and could wear very beautifully on less dry complexions or in hot, humid environments.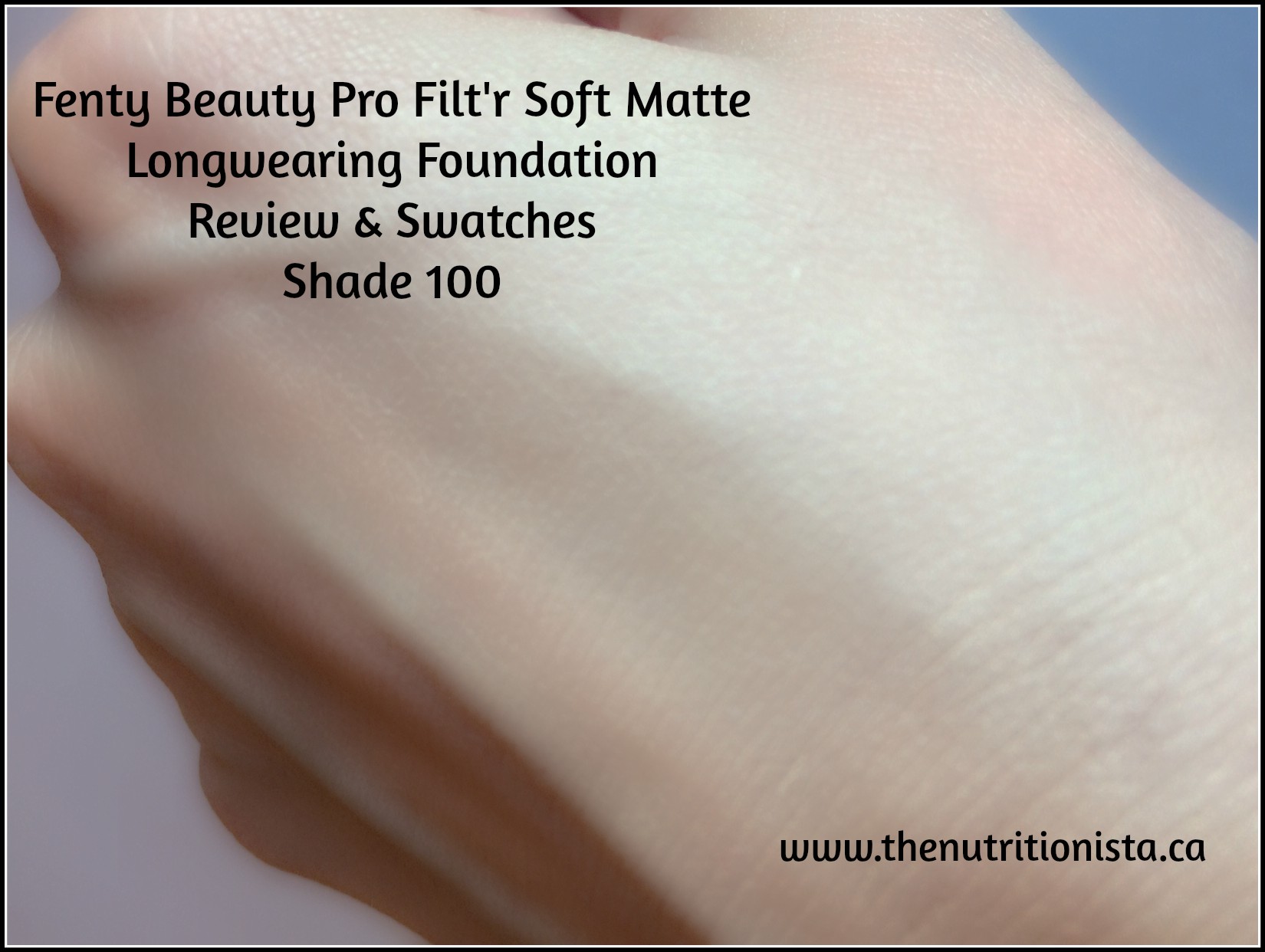 That being said, I hope Rihanna launches a luminous, hydrating foundation soon, so she will have solid options for both normal to oily skin types and normal to dry.  I think it would be a home run.
Have you tried Fenty Pro Filt'r Soft Matte Longwear Foundation?  How did it work for you?  Did you find a perfect match, and how did it wear on your skin?  Let me know in the comments below and on Facebook, Instagram, and Twitter!
—
Love what you are reading?  Stay in the loop and never miss a recipe; get the FREE Nutritionista ezine for free expert tips, success strategies, delicious healthy recipes and VIP offers and get Erin's exclusive guide of the Top Ten Foods to Banish From Your Kitchen ($24.99 value) absolutely free!  Get ready to nourish yourself sexy!
© 2018 Nutritionista.  Erin Luyendyk, RHN.  All rights reserved.
Erin has normal to dry/dry skin that is not particularly sensitive.  She is a draped Sci\ART Bright Winter on the cusp of Bright Spring with very neutral undertones.  Her best foundation color matches are Josie Maran Vibrancy in RG5 Dynamic, Fenty Beauty 100, Maybelline Matte and Poreless in 110 Porcelain, Marc Jacobs Ivory Light 10, and Hard Candy Glamoflauge in 930 Porcelain.  All opinions are her own.